Toss Those Clunky Scissors
With four unique attachments, Cuticle-B-Gone is your all-in-one nail care solution. Choose from a wide paddle buffer for larger nails and toe nails, a narrow paddle buffer for smaller nails, or right-side and left-side precision knife-edge buffers.
Purchase Now
A More Beautiful Cuticle
The different attachments are designed to target different size nail beds, hangnails and dead skin. On each attachment, position the smooth side along your nail and the buffer side on the dead skin to create a clean nail bed.
Purchase Now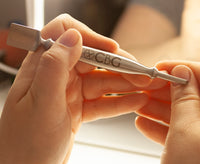 Learn More About Our Story